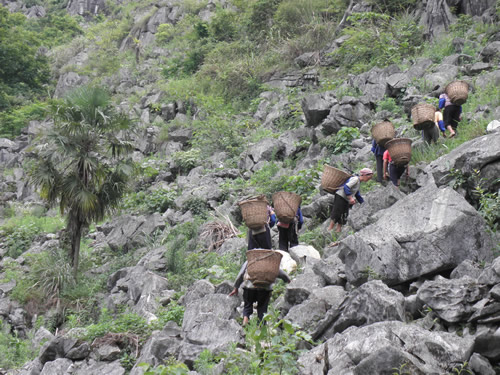 Back-baskets made of bamboo—the bamboo item most used by Mashan villagers. (Yang Cheng)
By Yang Cheng (Associate Researcher, Research Centre on Social and Economic Development, Guizhou Academy of Agricultural Sciences)
Editor's note:
Mashan, a prefecture in Guizhou Province inhabited by the Miao people, is a typical karst peak cluster-depression area suffering from severe soil denudation, and there is a pressing need to restore its ecology. Over the last two centuries, the governments of the various Chinese dynasties have, for convenience of governance, introduced a number of outside crops, such as cotton, linen, maize, potatoes and yam. These crops are not suitable for Mashan's ecological environment because they require perennial tilling, and clearing of vines, creeping plants and underground rhizomes of clump-forming plants. The rocks and gravel previously covered by these plants are exposed, resulting in soil denudation. The key to restoring the original ecology, therefore, is to grow plants that fit the local natural environment, such as vines and creeping plants, as well as low shrubs and bushes. Bamboo is one of the most suitable plants for this purpose because it conserves water and prevents soil erosion. Not only can bamboo help to restore the ecological balance, it is also an important resource in the local villagers' daily lives. PCD has been supporting an ecological restoration programme in Mashan in which villagers learn of the importance of growing bamboos. In this article, the author, PCD's local partner, sums up and explains how the cultivation and use of bamboo may help villagers to build a sustainable way of living.
+ Click thumbnail to enlarge photo
The natural environment of Mashan fits bamboo which is why bamboo can be cultivated for restoring the local ecology. (Angus Lam/PCD)
The walls of the houses of Mashan villagers are made of bamboo. (Angus Lam/PCD)
Some walls are made of soil and cow dung which are mixed and then smeared on bamboo boards. (Angus Lam/PCD)
Baskets made of bamboo for holding crops. (Angus Lam/PCD)
Corn in a bamboo basket. (Angus Lam/PCD)
Back-baskets made of bamboo—the bamboo item most used by Mashan villagers. (Yang Cheng)
An old man weaving bamboo containers. (Angus Lam/PCD)
A fence made of rocks and bamboo—a typical example of utilising natural resources in Mashan. (Angus Lam/PCD)
Water resources are scarce in Mashan, and villagers used to pump water from rock crevices with a bamboo tube. (Yang Cheng)
Water pumped out by the bamboo tube. (Yang Cheng)
Mashan suffers some of the most severe soil denudation in the world. The majority of the population are Miao people, who have lived in Mashan for thousands of years and have their own ecological and cultural system. Over the last century, this system has been gradually disappearing as a result of the impact of foreign culture. To revive Miao culture and the local ecology, the Research Centre on Social and Economic Development of the Guizhou Academy of Agricultural Sciences and Jishou University have been working with the Miao people in a PCD-supported programme entitled, 'Action Research for Traditional Miao Culture Revival and Ecological Restoration in Mashan Prefecture of Guizhou Province'.
Whether it be culture revival or ecological restoration, people's practice in their daily life and in production is central. The role of bamboo in ecological restoration is indispensable, and it also has a special meaning for the Miao people, who used to say: "Bamboos are good companions of the Miao people of Mashan".
Guardian of Ecology
Bamboo is the ecological guardian of the Miao people and protector of the local ecological environment.
In Mashan, bamboo groves are found around people's houses. According to the villagers, such groves protect human beings, animals and houses from being hurt or crushed by rocks tumbling down from the hills, while enhancing the aesthetic beauty of their villages. Also, bamboo groves are natural oxygen bars. Tests have shown that bamboo releases 35% more oxygen than other plants. Living in a village surrounded by bamboo groves makes one relaxed, happy and refreshed.
In the process of ecological restoration, bamboo is considered a 'medicinal ointment for resuscitation' by the Miao people. It acts like an umbrella, protecting the soil from heavy rain and resuscitating it so that it again becomes a 'life blanket' for animals and other plants. Studies have found that under favourable conditions, a bamboo plant can grow as much as four feet in 24 hours. Because of this, bamboo is the villagers' first choice for cultivation for the purpose of restoring the local ecology.
Bamboo is a perennial. Three to ten years after planting, its shoots can be harvested every year and bamboo logging will not affect the ecological environment. According to the villagers, the more you cut the bamboo down, the more it grows. If you never cut it, it eventually dies, usually after flowering.
A good partner in production
The Miao people of Mashan used to practice slash-and-burn cultivation and raise livestock. When there was a shortage of food, they were also hunter-gatherers. They usually cultivated crops where their animals grazed. They used bamboo sticks to pick up seeds in rock crevices and used back-baskets made of bamboo to hold the millet they harvested. The bows and arrows they used in hunting and the baskets they used for gathering were also made of bamboo. However, nowadays only the back-basket is still widely used. Whether they are grazing their flocks on the mountain or working in the field, going to the market or visiting relatives, they always have their back-baskets with them and use them to carry all manner of things.
Twenty years ago, when cement was not widely used in the construction of reservoirs, water shortages were a severe problem. Whenever it rained, everyone took their bamboo buckets and water pumps up the mountain to look for rock crevices where water had collected. The scene was both spectacular and a bit sad.
A good companion in daily life
Since the Miao people settled down to practice agriculture, bamboo has been their main building material. The stems are woven together to make boards. Cow dung and other material is mixed with earth and smeared on the bamboo boards, which are used as walls after they have dried. Some people simply use bamboo boards without any earth and cow dung plaster. Today many Miao people in Mashan still live in this kind of house.
Bamboo shoots are tasty, very nutritious and considered one of the safest and most healthy ecological foods. According to the Miao people, Wanzhu bamboo tastes the best. Usually, these are only harvested when esteemed guests are being entertained.
The Miao people have long known of the medicinal uses of bamboo. According to Yang Guangfu, a villager of Goupi Community of Baba Village, congee made from fresh bamboo shoots cures ailments such as chronic diarrhea, dysentery, rectal prolapse, etc. Moreover, constant consumption of bamboo shoots can alleviate symptoms of excessive thirst and fever accompanied by restlessness after giving birth, as well as cooling the lungs and clearing phlegm because bamboo shoots are rich in protein, amino acids, fat, sugar, calcium, phosphorus, iron, carotene and vitamins B1 and B2.
For the Miao people in Mashan, square bamboo has a significant role in their sacrificial rites and is an important tool in their religion. After an elderly person passes away, square bamboo is offered to the dead. Huang Jiyuan, the laomogong (known as geshi or guishi in other parts of the country)[Note] of Goupi Community explains: "King Yalu, our ancestor, came from far, far away. Climbing over high mountains, he and his people arrived here after many hardships and perils. As descendants of King Yalu, elderly people who pass away have to return to the ancestral homeland. The dead will embark on a long journey towards where the sun rises. A walking stick is indispensable for this journey. Square bamboo must therefore be offered to the dead in the sacrificial rite. Without a walking stick made from square bamboo, it would be difficult for an elderly person to return home to join King Yalu."
Traditional handicrafts, passed on generation after generation, are often made of bamboo. However, the old skills to turn bamboo into tools of production and objects of everyday life are fast disappearing as bamboo objects are replaced by items made from modern materials. Also, young people are reluctant to learn the craft of weaving bamboo. There are now only a few elderly people in the village who are adept at bamboo weaving.
---
Note:
Translator's note: In Chinese, laomogong literally means 'old devil grandpa' while geshi and guishi mean 'master singer' and 'ghost master'. All three terms refer to shamans whom the Miao people believe can communicate with ghosts and spirits and cure sickness.