By Qiu Huiqiao, first published in Sources for Action
Foreword
It has been a month since the interns have returned to our busy routines in China. A certain feeling has gradually emerged for me, one that I had not yet sensed at the final evaluation of our study trip – it has formed with the distance between Marinduque and me.
I spend life in Shanghai on crowded subways and going from one workplace to another. During my one-month stay in Marinduque, I learned how fast the plants and flowers could grow at the family home of my mentors, the Natal's. I learned the time when local people run the daily ihawihaw (barbecue) business. I learned the rhythms of everyday life, watching fishing boats sail back to the beach at sunset and, on fresh mornings, C selling her last sweet rice cake.
The contrast of the two lifestyles brings me a bit of a shock! It has made me realise how I want to live my life. We all need to live a real life, which in my view only exists in genuine communication between people.
2019.12.20

Are they really just waiting to see changes?
I was assigned to the island province of Marinduque for the study trip. The island is less than 20km from the city of Lucena, although it takes 3 hours by ferry to arrive. In Marinduque, you can see streets and Spanish-style restaurants and the beautiful sea at Gasan. I stayed in the village of Quatis, with a never-ending coastline and grey cobblestones shaped by waves. I spent many afternoons with my mentors' daughter G by the beach, watching fishermen sailing back home before sunset; only on the way home from the beach did we see them carrying the huge tuna they had harvested.
Kids were frolicking by the sea at sunset
People here catch many species of fish from the sea while children see the shallow waters as the best place to play. Yet this beautiful and peaceful island has a past full of conflict – quite contrary to how it looks now.

On my journey from Manila to Marinduque, my mentor Delfin told me a lot about the historical and environmental conflicts, reminding me that to know Marinduque better, I should especially not ignore the pollution incidents caused by mining activities. To ensure that I know more, he brought me to a mine in Mogpog after the mid-term evaluation: I could witness the aftermath. We were accompanied by R, an environmental justice advocate with Marinduque Council for Environmental Concern (MACEC). We could hardly talk in the vehicle on the way to Mogpog, with the noise of the wind and the loud engine.

After our three-wheeled motorcycle left the main road, we bumped along a rocky road with little grass. After about 15 minutes, we arrived at the mine site and what appeared in front of my eyes was a calm, mirror-like 'lake'. Around the 'lake' we could see tall weeds, the 'lake' surface gently rippling in the breeze, and a beautiful landscape. if not for the sake of heavy metal pollution, it felt like a perfect place for a family picnic. Delfin looked at the 'lake' with a face of sadness, saying, "This is the consequence of mine dumping; the mine pit became a pool with toxic metal after heavy rain." R, sitting beside me on a rock, told me that the water in the pit overflowed and contaminated the river and surrounding farmland, leading to a loss of food production for the community.
the mine pit and its surroundings
I learned from R about the Marcopper mine disaster, which brought extensive change to the Marinduque environment and the local people's livelihoods. According to Philippines Rural Reconstruction Movement (PRRM), the resultant floods damaged 700 households and isolated five villages, with 4,400 inhabitants, from each other. The disaster seriously affected more than 30,000 coastal families relying on farming and fishing in Boac and Makalupnit.

Although it has been a long time since the disaster, people still feel shocked and sad about it. As a response, MACEC has carried out many environmental programmes in the area, including training on environmental protection and coastline cleaning. R said, "The reason why I am involved in the work of MACEC is to sensitise people about the fact that our eco-system is no longer in a state of balance; I tell people some basic data. For example, Marinduque once had 48% forest cover, but now it's only 25%." She also mentioned that people here are not keen to participate in environmental advocacy, that it's hard to organise action. While she talked about the difficulties, she showed disappointment on her face: she saw the ecosystem as sick, and if people failed to act to improve it, the health would get worse and worse.

Yet, according to data from Philippine Rural Reconstruction Movement (PRRM), local people have fought back against foreign mining companies' harmful polluting practices. As early as 1986, Calancan residents launched a class action against mining companies, while Congressman Lorendo Tanada spoke out in support. However, nothing could stop the copper company from pouring mine tailings into Calancan Bay. In 1991, residents of Mogpog also opposed Macorpper to construct a dam in their small town, concerned that the project would severely affect their livelihoods.

In 1995, however, a new mining law was passed (Philippine Mining, the Act of 1995), getting around the 1987 Pilipino Constitutional Law which provided that foreigners could only own up to 40% of any natural resource enterprise, and that mining companies could relocate local residents, if necessary. In 1998, Philippines President Joseph Jessie Estrada (Joseph Ejercito Estrada) promised to repeal the law; instead, he allowed companies to continue mining and to continue displacing locals.

Although environmental protection is the responsibility of local residents, the success or failure of an action is often not under their control, and this influences people's motivation to participate. I can see that the complaints about people's so-called 'wait and see attitude' and 'laziness' have a social and historical foundation. The mindset that has been shaped by history, by the failures that have been experienced, and by farmland destroyed along the coast – all of this exerts a negative impact upon people's will to participate in environmental protection.
There is always someone who wants to do something
My understanding about The Philippines, in the true sense, began with my mentors Lolita Natal and Delfin Natal, a couple who persist with community projects ranging from livelihood improvement and gender equality to environmental protection. Their work falls under PRRM, the country's pioneer organisation in rural development – the largest of its kind and also the oldest. Its activities focus on four main areas: education, livelihoods, health, and community autonomy. Throughout its 60 years of service, PRRM has nurtured so many local communities – as many as the night stars, it seems – from social enterprises to civil society groups.

My mentors are community leaders in Marinduque: they have spent many years working in local community development. From their experiences, I can see their simple yearning for a better life – both as ordinary people and as community workers. When I asked why they engaged in community development, they always said, "There has to be someone doing this work." Lolita has short hair and wears glasses; she looks professional and capable. Yet, when you speak with her, you find she is a person who talks slowly and has huge patience for others. Sometimes, she even forgets or hesitates to mention what she wants to say to you. In my mind, she is quite a slow person who never hurries to push tasks forward. Yet, for a slow person like her, she has shouldered many responsibilities in areas such as water management, marine turtle protection, women's social enterprises, coastal cleanups and other important community development tasks. She would take me everywhere to monitor the progress of the projects.
Lolita is not an elite in the traditional sense, as she did not even go to high school. When she was young, she worked in a restaurant and did the most tiresome and dirtiest work to earn a living. She later worked as a tailor in her community and after her marriage, devoted most of her energy to raising her children. At that time, she lived a 'normal' life of a Filipina woman.
Lolita told me that after she met and married Delfin, they lived together in Manila, the capital city. Back then, Delfin was a postal worker, spending much of his day delivering letters and often arriving home late. Lolita's decision to return to their hometown of Marinduque came after she found herself too tired to take care of the children by herself: she needed more involvement from her husband. When they moved back to the village of Marinduque, Lolita started sewing pillowcases and later initiated some community livelihood projects through the church, such as setting up a grocery store with start-up money from church members. When the operation of the shop became difficult and it had to be closed, Lolita convinced some community members to continue the business but to switch to making fish sauce. In any difficulty, she always asks how she can solve it instead of quitting.
Lolita is like the orange flowers at the doorstep of the Natal home, which I later discovered are called Yellow Bossa. I remember also being amazed by the same flowers along muddy roads in rural Malawi. The flower does not require rich soil and seems to bloom everywhere, in dry or rainy climates! Just like the Yellow Bossa that always finds its place in a tough environment, Lolita rarely complains about the hardship that life has given her; instead, she constantly makes her way through challenges, with various strategies. I remember when we walked along the beach. She'd always be observant. Upon finding plastic rope, she'd pick it up and say, "It needs to be cleaned and then reused" and collecting plastic became something we did every time we went to the beach.
Lolita is tying plastic ropes together
She also took me to meetings she ran, about environmental protection, or gatherings with Kalipunan Ng Kababaihan Ng Marinduque, or KKM, a women-led social enterprise she founded. At meetings, she'd change her playful demeanor seen at home. She'd calmly explain the meeting context to the local residents, who came with questions. After meetings, she'd say to me, "I wonder if people will come to the next one." She might hesitate, but she always held out hope.

I still remember the day, the 8th of November, when the weather suddenly changed. Rain fell so hard, and I wondered if we should really journey to Bancoro for the scheduled meeting. I thought the bad weather would keep many people away. Lolita and I both hesitated, but eventually, along with the KKM crew, we packed ourselves into the small three-wheeled vehicle like sardines, staggering ten kilometers to the village of Bancoro. We were very wet in the heavy rain and wind.
Although it was not comfortable at all in wet clothes, we waited. The rain stopped for a while. There was a long time that we simply waited, and eventually we fell asleep to the sound of rain beating down on the shed. In the end, none of the villagers showed up. Even so, there seemed to be no sign of disappointment on the organisers' faces. "I knew this was going to happen, but we had no other choice," Lolita said. Through this incident, I learned that sometimes it is not easy to communicate with villagers in advance. You really just have to get there, and then you'll know if the meeting is going to take place.

During my days with the Natal family, I often saw Lolita burying her head amidst piles of papers, slowly tapping numbers and English words on her laptop, then looking up into my concerned eyes. She'd sigh deeply and say, "Oh, the work is too much, I'm so tired." But then she'd shrug and laugh. Sometimes, she'd ask me to help with some 'technical problems' as she was not yet very familiar with some functions of Microsoft Word. But, so what? Rebecca, PRRM Women's Association President and a woman I respect very much, told me, "Your mentor is an ordinary woman, but also an amazing one." Lolita is one of the few women Rebecca cultivated as a community leader who is still doing community work, making a difference at the local level.
Delfin and Lolita togehter explaining project
Delfin is another mentor of mine. He is a tall, vigorous, and meticulous man, fond of reading and collecting stamps. A postal worker for 30 years, he delivered letters to uncountable households and started collecting stamps early on, setting aside some money from his monthly salary to buy his favourite ones. After finishing with the postal service, he became involved with PRRM. As a project manager, he has become a respected leader through in-depth participation in many community projects. Although the PRRM office was later closed, he continued to work on community projects, supporting local farmers and fishers.
Between 2010 and 2015, he was also actively involved in assisting local fishers and drivers in Gasan to form the Fisherfolks Association and Tricycle Association. These self-organised groups are called People's Organisations (PO), which unlike NGOs, are made up of a number of homogeneous groups that share a common interest – whether smallholders, fishers, women or others. The PO structure and management systems are not as formal as the NGO. Usually, the formation is driven by external projects and donations, yet they may also exist beyond the initial project period. In local areas, PO groups are often set up to achieve better mutual support and community management.
Delfin is instructing on organic agriculture project for local people
Delfin and Lolita are now trying to promote community organic agriculture programmes. The project site is exactly where the PRRM office used to be – the office had been destroyed in a typhoon, but Delfin rebuilt it, telling me, "This land will be wasted if it is not used properly. Wouldn't it be great to build houses and farms so that people can work here and practice organic farming?" He took me around the site, cheerfully telling me about the plans of planting vegetables here, building a fence there, and fishing in a pond beside it. At such times, I feel he is an excited child showing me what is in his toy box. Yet, he is more than aware that organic farming projects also face practical organisational difficulties; he often said that people are reluctant to come to meetings and activities. "Some people come, but I think some people don't because not every programme ends up working out. But, if we don't participate, if we don't act, then things will never change for the better." Rather than attributing the failure of some projects to people's laziness, Delfin told me that "people's behaviours are also influenced by the way government works. People tend to go to meetings for the allowances given by government. If we don't do the same, they probably won't come at all." This practice was also mentioned as problematic in an interview I had with a government official. They all seem to believe that the practice spoils the villagers; it does not help people come to see that public issues are related to the improvement of their own lives.
The recycling corner of Natal family
Lolita and Delfin strive for good in their lives. Given that they are implementing and monitoring coastal cleanups, the fence in their yard was made out of plastic soft drink bottles. On weekdays, when I went to the beach with them, they picked up bottles and plastic rope to recycle them. There is very little extra or wasted food in their family refrigerator. The household garbage is divided into wet and dry. Plastic, paper and the like are packed in gunny sacks, while food scraps are placed in plastic buckets and used for composting. But what is more commendable is their self-discipline and self-drive to carry out community work, despite all the challenges. They know that they alone cannot solve community problems, so they carry out advocacy and other activities to call for more people to join the effort. Through these activities, I came to gradually see the social diversity in Marinduque – flocks of children playing by the seaside, fishermen sailing far into the sea, women selling snacks on the side of the road, the women's social enterprise making fish sauce, youth leaders engaged in environmental protection, and local government officials and community residents passing by me every day.
Our coastline under our shield
To help me better understand the community, Delfin took me to Gaspar Island on the 20th of October, just three days after I arrived. The boat took us through a calm turquoise sea to a coastline covered with snow-white coral. The shore stretched along a long, thin strip of yellow sand, where children played with lots of joy, flinging themselves unhesitatingly into the water, even with their clothes on. The sea is always open to them, like a mother's hug. On the beach, there were some simple huts, designed as places to rest for fishers and tourists alike. As there is a lack of fresh water on the island, both water and gasoline for the fishing boats are transferred from the mainland. I didn't find livelihood data for Gaspar Island, but based on other studies and the information I collected from local people, the average household size is about five persons; most people own their own homes (82% in one study); and more than 20% of households borrow loans, mostly from informal sources.
Lads from Gaspar Island are preparing for boat race
The day I arrived on the island coincided with the day of the fishermen's boat race. A crowd gathered on the shore – a lot of young guys, some of which were participants. As soon as we landed, a short tanned man limped toward us. Friendly, he smiled at us so openly that his wrinkles immediately covered his eyes. My mentor told me, "That's Roni, the legend of Gaspar Island." This old fisherman, who looked small and humble, seemed to be in sharp contrast to the described 'legend'. Yet, when I asked him why he cared about the environment, the fisherman, who has been fishing since the age of 10, spoke honestly. He talked about the overfishing in his early years that continued on and on, until he found there was nothing left to fish. He acknowledged it as a crisis, which led to his gradual transformation into a man willing to take action to protect the marine environment.

This sense of crisis also led to the formation of the Island's fishing association. Since then, my mentor has been involved in helping local residents here to set up such groups and to help them apply for small grants to carry out community advocacy. Some aid agencies have conducted leadership training for community representatives, including Roni, in the hope that they can influence others to promote sustainable fishing in their communities. In the process of his advocacy, Roni has encountered many practical struggles; for example, people often do not seem to understand the importance of sustainable fishing in the long term as they prioritise their short-term livelihoods.
"When a fisherman is lucky, he can catch 10kg of fish in a day and make 1,000 pesos. When he is not lucky, he has nothing." Roni told me that he was also very sympathetic to people's livelihood concerns. The advocacy has also been hampered by illegal fishing, with some law enforcement officials wanting to stop Roni from reporting illegal fishing through bribes or even threats. Roni has not given up his advocacy with the interference. "I don't want to use violence to stop illegal practices, I believe we can achieve consensus through peaceful dialogue." He says that only through peaceful communication can people's demands be clearly put on the table for discussion. In a relatively mild way, Roni has also persuaded some fisherfolk to give up their illegal and unsustainable fishing practices. He was proud to tell me that one fisherman quit illegal fishing and took a job as a barangay (community) guard.
Playing with children from the island
In this group, besides Roni, there are others involved in advocacy. G is one of them. She is a fisherwoman and the liaison person for the group. Tall and strong, with skin tanned and a bit red from all the outdoor work, G walked toward us, holding hands with her daughter. There were very few fisherwomen in the families I met here. Globally, it is a male-dominated sector. Lolita told me that when men went out for fishing, women usually watched the house, sold snacks, or took part in activities near the shore, such as collecting fish fry and fishing with nets. Different to what Lolita described, G went out fishing together with her husband because she wanted to help catch more fish.

G told me that her family has five children, and if they failed to work hard, the children would very well not have enough food, or be able to go to school. Although women's participation in fishing is very limited, they play a relatively active role in community organisations, especially when it comes to issues such as marine resource management and environmental protection. Some wives even represent families at community meetings. G, like Roni, has seen the challenges to people's livelihoods posed by the lack of fish. "By joining the fishing association, I can do something that will benefit future generations, and I can also improve myself and help people in my community better." When our conversation came to her work at the association, her eyes shined with fulfillment. In particular, she told me that before she joined, she was a shy person and didn't want to talk to people. "Now I can communicate, even with foreigners, without feeling shy," she said, looking at me, smiling. When she talked with me, she was calm and cool, and I could not imagine her previous shyness. She shared with me that organising meetings is not an easy task. "People think that meetings eat their time for making more money or for doing other things at home," she said. Regardless of people's concerns, she has some strategies to convince people to attend. "If you go through every household and talk about how important an activity is and what it is about, someone will listen." Because of these detailed instructions, more and more people are willing to come. Despite that it's hard to get people together, the fisherfolk keep trying to involve people for the good of the community, because this is their coast, their home.
We can make friends by working together
The most wonderful time in Quatis was mostly spent with the members of KKM, or Kalipunan Ng Kababaihan Ng Marinduque, which means Marinduque Women's Association. KKM is also a social enterprise engaged in processing fish products. Women have a special bond with fish on an island like this. According to a survey conducted in 1991 by the Bureau of Fisheries and Aquatic Resources (BFAR), the total number of enterprises engaged in fisheries in The Philippines exceeds 800. Women make up only 10% of the workforce in the industry; and in companies employing more than 10 workers, women make up 13%. However, women are active in sales and processing in the industry, yet this work is not reflected in the survey. As is often the case, women's work is neglected, the economic and social value not recognised. KKM and other women-led entities that process fish play an important role in that after any fish is caught, whether it goes to the market or is processed and preserved, determines its value. I also see the positive social impact of women's participation in fisheries: it strengthens and unites women in a community, reduces their sense of isolation, and lessens the economic vulnerability of women and their families.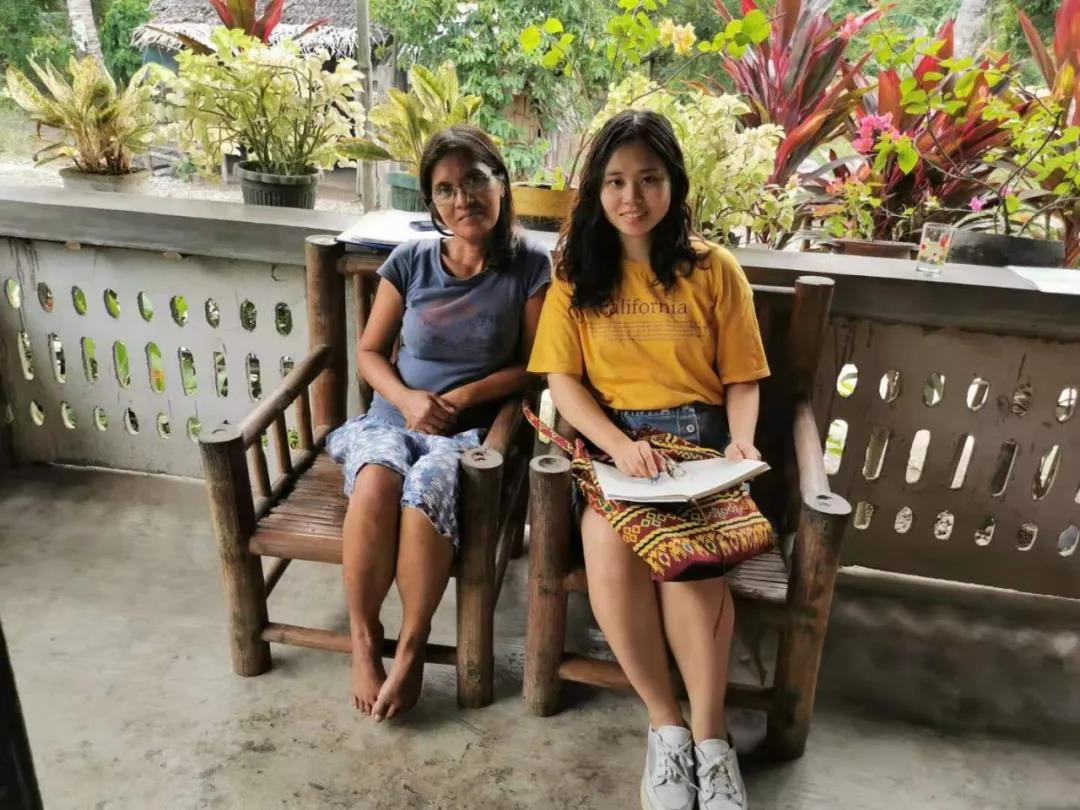 Interviewing a KKM member
Lolita, the founder of KKM, told me that it grew out of the grocery. Members of the church had provided some start-up money and they ran a grocery together to make a living. Then, when the grocery was not doing well, people talked about closing it down. Unwilling to give up, Lolita transformed the grocery into a fish sauce business. She mobilised members of her own family who had no income and also other members of her community, mostly women who had livelihood struggles. "At the beginning, I would ask people if they would like to join. I observed those in the community who needed the most support and help, and then further communicated with them and persuaded them to join me." Community mobilisation was the first step for KKM, and some of the village women who made their living through the entity began to see KKM as a platform and an opportunity to unite.
Many residents involved in KKM are women who remained in the village to maintain family care while their husbands worked in big cities and sent money home regularly. Besides Lolita and her family, the first KKM member I met was N. At that time, she was very shy. Knowing that I wanted to ask her some questions, she kept saying, "I don't know how to speak" because of the shyness. Later, with Lolita's encouragement, N began to talk more freely about herself. During the conservation, she did not really look me in the eye and she looked away from time to time, yet there was a very firm confidence as she talked about what she has gained through KKM. "I got to know other people in the village. I've started to make friends. I now have much better relationships with my family members, especially my mother-in-law," N said with happy smile.

N is from Nueva Vizcaya, a mountainous region inhabited by ethnic minorities. She married and moved here as an outsider. At that time, her husband was the only person who knew her well, yet he went to work in Manila. There were many challenges in her life. It took her time to get used to the culture, food and lifestyle here, all different from Nueva Vizcaya. When she first arrived, no one knew her, and she only felt comfortable inside her house. She had no courage to mingle with people. "We thought she was a loner because she didn't go out at all," Lolita said. It was Lolita who visited N and convinced her to join KKM, through which N found her first real step out of the house.

Different from N, C is a single mother from Quatis and lives alone with her 11-year-old daughter. C used to work at an electronic processing factory in Laguna, a province on the island of Luzon, where she lived and ate in a dormitory. Her daughter lived with C's sister, whom she only visited on the weekends. Her daughter was five years old at the time, and C didn't live together with her until she was nine. C's jobs, at KKM as well as her own rice cake business, allow her to be together with her daughter in Quatis. Although her income is not as stable as it was with the factory, she feels it is worthwhile that her daughter grows up in her hometown. C told me that she worked with KKM as a financial manager, and when work at KKM is suspended, she tends to sell her rice cakes, which are popular with fishermen, children on their way to school, and drivers who set off early in the day on their motorcycles. Sweet and tasty, they often sell out. One day I arrived at her station at 8 o'clock in the morning, and there were only five left. She laughed, "My breakfast is for early risers!"

Regarding family, C told me, "Bringing up a child alone is very challenging, especially now that I don't have a permanent job and I have to work hard." I asked her, more like a joke, "Have you tried dating other men, or considered getting married?" She told me firmly, "I have no plans at all. With no man at home, I can leave whenever I want and don't have to do any housework." Then she smiled, saying that having friends around was more than enough – she treasures those relationships. C showed me the accounting book she made, pointing out a chart of data. "You can clearly see the sales of fish sauce." She told me what parts of the year that fish sauce sells best and when few people buy it. When talking about why she joined KKM and why she has stayed in the group, she, like N, explained that KKM has helped her make more friends. I also know that both N and C have attended trainings and seminars, learning about project management and financial matters – they have felt excited and valued. Also, KKM members often have family gatherings and invite each other to attend. I still remember when the Natal family held a putong ('crown' in Tagalog language), a party for family members' birthdays, as well as mine, to which KKM members were all invited. Every time KKM held a gathering or a learning activity, I usually observed them doing their work. The meetings were not compulsory for everyone, yet they still came and always seemed to be in a happy mood. When there was work to do, they washed the bottles, filled them with fish sauce, and then refrigerated them. When there was no work to do, they would often visit each other socially. When N first arrived in Quatis, she felt lonely. Now she has built her own personal network through this platform. It's what she always said, "I can make friends by doing things with others."
KKM sisters enjoying good time by the beach together
From my conversations with KKM members, I have noticed the frequent use of the words 'friends' and 'relationships' – this reflects essential aspects of KKM. I also learned that some women had quit KKM earlier because it could not make a sustainable profit. Lolita explained to me that profits were also limited by the availability of marine fish. Along with that obstacle, the production cycle for fish sauce is usually a full year and marketing remains limited; all of this hampers profits. The more difficulties I see in making profits, the more I believe that the rest of the KKM members who have chosen to stay must have felt the positive energy they need from the group. With KKM, they seem to value themselves as good business partners and friends.

The production of fish sauce is also constrained by the natural environment. Lolita told me, "The fish we use for sauce should be the small varieties [normally, they use anchovies], but many people instead used fish fry of big varieties, which damages fish stock." She worries that there are fewer anchovies to be found in the market because of overfishing. When anchovies are rare, they tend to use tuna for sauce. Before making the sauce, KKM women clean the fish with water, sprinkle them with salt, and stir them over and over. Then the fish is put into a machine to be fully grinded up together with the bones. The sauce is placed in blue vats, and fermented for seven months to a year before being bottled and preserved.

There are several ways to bottle the sauce. Small bottles of fish sauce cost only 25 pesos each and are easy to carry. The biggest bottle is actually a recycled wine bottle and costs 300 pesos. While the plastic bottles are purchased from factories and need to be sealed, the glass ones are recycled, so the women need to clean and sterilize them thoroughly before bottling and sealing. Although washing and filling bottles are very simple tasks, the tasks provide women with opportunities to connect with each other and learn together.
​
Palitaw is at left bottom; they want to make me feel full before my trip
Before I left Marinduque, N and the other KKM members made palitaw for me, because they knew that what I loved most was a good bite of coconut. As I looked at the tray of palitaw, my heart filled with simple but rich emotions. I feel like I had become their friend!
A form of sustainability: authentic communication between people
With my short one-month study tour in Marinduque, I really didn't know much about the area and the country. What I found most rewarding was the close, deep and authentic communication with the local people. At the farewell dinner on my last day, R, a member of KKM, joked with me, "Tintin [my Philippine name], you've made us forget that China is our enemy." In terms of international politics, the relationship between China and the Philippines has always been sensitive. The Philippines had a history of being colonised by Spain and then the United States and was inevitably influenced in many ways, beyond colonisation. What they know about China is an ideologically processed impression of China, and the reverse applies: there is relatively little information about the Philippines in China's domestic Internet. The Philippines and China have also had conflicts when it comes to the use of marine resources. Yet, at the moment, it seems that these political situations are all tenuous; what is more powerful to me is people-to-people exchange. In Marinduque, we saw each other not as individuals from an economy, not as individuals representing any political position or party, but as genuine people, as real as you and me. We valued our connection, and I think such exchanges are particularly valuable now, with nationalism rising.
ihawihaw (barbecue) with my local family before leaving for China
During the final assessment, Partnerships for Community Development (PCD) colleagues asked me what I gained from the study trip and how did I grow. I think the most precious thing for me was to be able to really see the real Philippines. My understanding about the country became closer to reality through interactions with fishers, farmers, women, children, and family members in the local Marinduque communities. These realities, to a large extent, dispel the latent prejudices and misunderstandings brought about by differences in backgrounds and by political tensions. I firmly believe that authenticity is of vital importance in promoting mutual understanding, which is the foundation of a peaceful world. For me, sustainable living is a large yet attainable goal, and to achieve that goal, we should not only look at our relationship with nature, but also try our best to seek a sense of equality in our relationships with other people and with other cultures. I am grateful for the honesty and trust of the people in my community who have given me more faith in peace in a world full of conflict.
Postscript
At the time of writing this postscript [in Chinese], it was already April of the following year. Last December, shortly after I left Marinduque, the KKM production area was hit by a typhoon and activities had to pause. In January of this year, the COVID-19 outbreak began, and the world is in a state of great uncertainty. Psychological divisions have emerged between people because of the pandemic, with many conflicts in international relations.

When I look back at my experience in The Philippines, I truly see that in the midst of external uncertainties -- whether natural disasters, public health crises, or unstable international situations – the search for a sustainable force requires our activism and our nurturing. I have been involved in many social actions during the pandemic, and have deeply felt power and energy being unblocked through strengthened connections among people who are promoting good in society. I think this is real growth.
2020.4.21
■ QIU Huiqiao was engaged in international development work in communities of Western Africa and Southern Africa for two years. Since 2018, she has been involved in domestic public welfare focusing on sustainable community development. With the outbreak of COVID-19, she has come to see uncertainty as the new normal, and has returned to her hometown. Currently engaged in civic education entrepreneurship, she is exploring regional sustainable development work from the perspective of cultivating civic action, aiming to conduct action research for insight into literacy development.